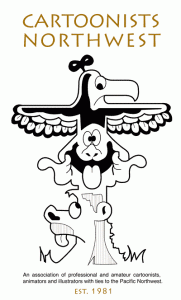 Cartoonists Northwest is a local organization of cartoonists and comic fans living in the Northwest (Washington, Oregon, Montana and Brittish Columbia) with meetings every third Saturday at the Artists and Craftsman, at 5:30 in Seattle's University District (4350 8th Ave NE (at NE 45th St.) Come check it out, it's a lot of fun, this month our speaker and guest shall be Gabriel Campanario AK the Seattle Times' Seattle Sketcher should be great.
Anyway while I've been attending for years I've been concerned that Cartoonists Northwest has gradually become merely a social group that remains seperate from the rest of the local cartoonists community. Anyway this year I decide to put up or shut up and ran for president.
While I'm still figuring out what to do I have one definite duty which is to write the monthly "president's column" for our monthly newsletter, Penstuff. So here's my first one for the January edition. (more of a manifesto, really.)
Now that the holidays are over, let's welcome in the new year with resolutions for both ourselves and the Guild. I have been thinking about this topic since I took up the president role in November, and now that it's official I thought I'd share a couple of those thoughts.

I believe that Seattle, Portland, and the rest of the Northwest, have one of the best comic scenes in the world (both mainstream and indie), and I want Cartoonists Northwest to be part of that once again. We can, and should, serve as both a gateway for beginners and as a community for the professionals. Ideally this would be for all of the Northwest, not just those of us in the Puget Sound who can make it to the monthly meetings.

There's many ways we can do this, and our program of great informative guests and useful workshops form an excellent base to build on.

An improvement I would like to see is increased outreach to other groups, creators, local cartoonists, the related communities. The outreach process can help us to make ourselves into a useful hub for the graphic arts communities, a hub that provides a welcome for all levels of skill and experience, from the idealistic student with their first taste of our wonderful mania, to cynical veterans determined to prosper in our craft. With this goal in mind we can be even more welcoming and inclusive by embracing just how much talent and creativity is covered under the term cartoonist! Newspaper strips, comic books, editorials, children's books and storyboards are barely a fraction of the list!

All in all I'm very optimistic about all of the ways that our group can grow this year. Getting more visibility and encouraging more people, as well as making the group more valuable for all of us who are already here! I look forward to seeing where we go next!